First of all, I m not asking for a totally revamp, some improvements are good enough.
I ve asked to people if they wanna see an improvement of Rohan, and guess what they answered :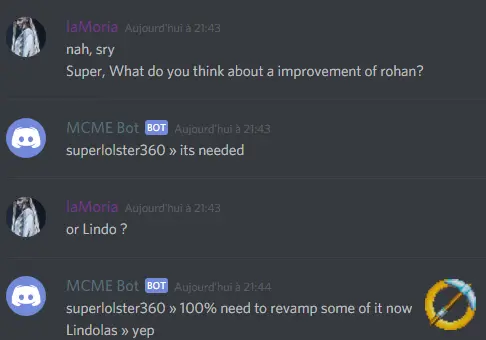 Everybody know Rohan is an empty land of plains and large flat hills with fields for the horses. But it has also some farmlands to feed the people and some isolated farms everywhere. But for now Rohan looks like that :
West Emnet on MCME hasn't the density of the one in books and it's empty : no trace of field for horse, most of the tall grass isn't used.
I'm not talking about the East Emnet which is totaly empty like the current Rhûn. I know most of the East Emmet was destroyed after the Great Plague of 1636. It was also flyed by the nomadic herdsmen during the War of the Ring, but it's after the 111th Bilbo's birthday. So it's should be more populated, tents, houses, or every kind of habitations a nomade can have.
Make the Wold inhabited ! That's what I would tell : some tent and that's all, but they were people who lived in the Wold.
And where are the farm lands ? That's one thing unrealistic from the films and we just reused that. How do rohirrims feed themself if they don't have crops ? I think they can't and they would be weak. So let them eating, and make wheat and potatoes growing in the Calenardhon. Please, or Lady Eowin will die in a cage after a long existence of servitude because she didn't get potatoes to defend her country.
Where do Horse Master live ? Only in Edoras and Aldburg ? I don't think, so we could build some houses for them in the West Emnet.
That is why I purpose this :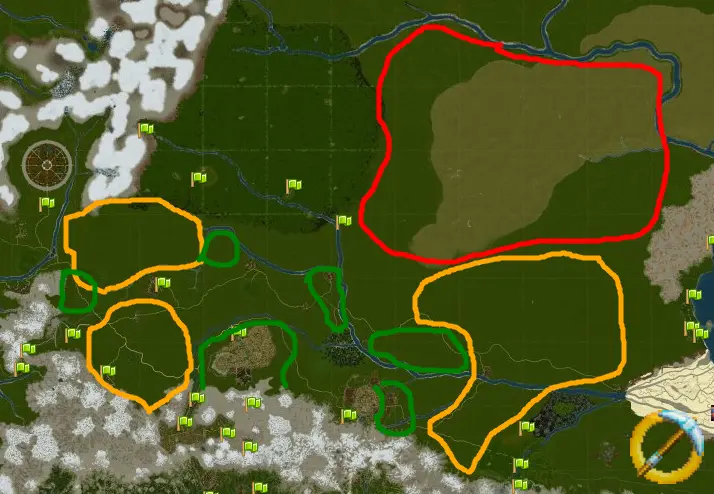 Green : crops to let people eating and houses for farmers
Yellow : Small houses alones for Horse Masters
Red : tents for nomadic Herdsmen.
I hope I will be listen. Or maybe a total revamp was planned when the pack will be unified.
But for now, the improvements I purpose are enough and would take less than a week (like a week end if we do jobs on it).
Thanks for reading !
laMoria