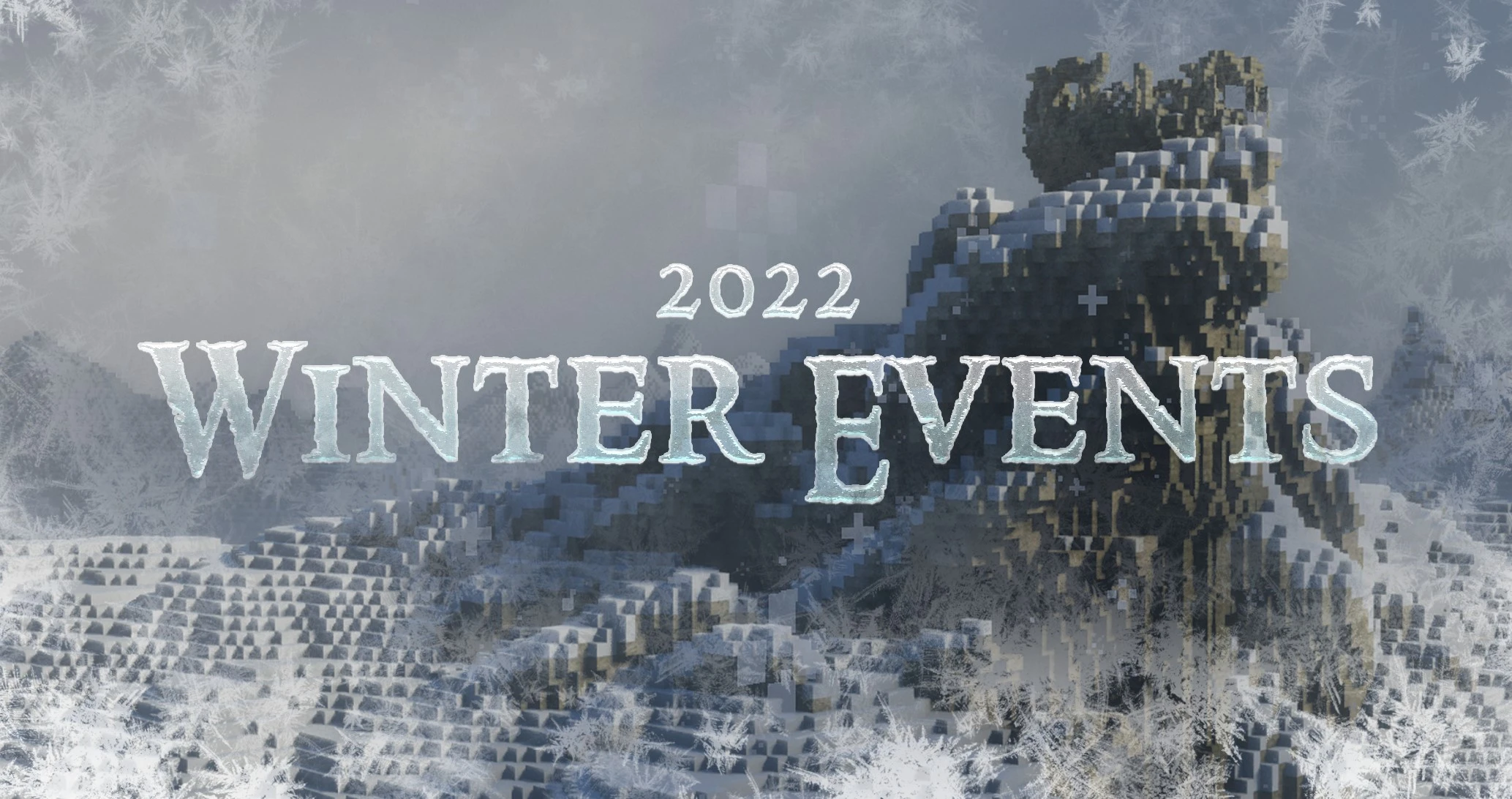 -- The MCME Winter Events 2022 --

It's cold, it's chilly, it's winter! That can only mean one thing... more time to keep warm indoors and play MCME. (

click here for accompanying sound effect

). With all of this extra time on your hands, why don't you take part in the MCME Winter Events this holiday season to keep you entertained. Here's what we have planned for you:

Snowy Hobbiton

Throughout the winter events and into the new year Hobbiton is being redecorated with snow, ice, and more snow! It is currently being redecorated through jobs and will be put on the main map when completed. Be sure to take some screenshots of the wintery builds and events as the MCME Times will be featuring some of the best ones.

Bag End Christmas Competition

Frodo is celebrating Christmas this year and needs to prepare Bag End for his Christmas party. Gather a group of 4 people and get decorating! The event will start on 17th December and ends on 1st January. The rules and how to take part in the competition will be detailed in a separate forum post to keep looking. The winning team will have their Bag End pasted into Snowy Hobbiton and will win a special prize.

Snowball Fights

Ever wanted to chuck snowballs at people? Well now you can. Thanks to

@maski98

a new seasonal PvP mode has been developed: the Snowball Fight. You can play this event from now until Spring and it can be run by any Guide. Keep an eye on Discord alerts and news to find out when you can play.

Ice Boat Race


17 December, 6pm UTC

You may have noticed that the Anduin is freezing over, so let's have a boat race on it.

@maski98

and

@w0rldunder

have created a race course down the Anduin and you can take part. be there or get thrown overboard!

Winter Werewolf


18 December, 7pm UTC @Stoog_Gaming

will be running a special Winter Werewolf for the evening, with new characters and new situations. If you love werewolf, then this is going to be a great evening for you.

Campfire and Middle-earth Stories


27 December, 6pm UTC

Warm up sitting around the fire with marshmallows, and a relaxing story read by

@Melkor_Belegurth

. It will be a perfect time to relax on a winter day.

Movie Marathon


28 December, 9am UTC @Chipped_Cherry

will be streaming "The Lord of the Rings", with a small 10-15ish minute break in-between each film. It will take about 10-12 hours (depending if it is the extended editions), so it'll be a whole-day event.

New Year's Celebration
1 January 2023

The new year will have arrived and 2022 will be left behind.

@mapthor

will be running a new year's celebration with plenty of entertainment and the premier of the anticipated MCME Year in Review 2022!

Well, now you have plenty to do over these cold and chilly times. On behalf of myself and

@Chipped_Cherry

, the winter events co-leader, thank you to all the players who have made these events possible and we hope you will enjoy them!​
Last edited: