Manager
Staff member
Manager
Moderator
Donor
Media Team
Before July of 2020, there was darkness. And then on the 25th day of that month, the screams of agony and delight were heard throughout Discord voice chats, and there was light. The MCME Team Quiz Challenge last year was a major success, with more than 8 teams participating in the event! Because of this, myself and Exeterkered have come together once more to bring to you…*drumroll*...
THE MCME TEAM QUIZ CHALLENGE 2: THE SEQUEL
​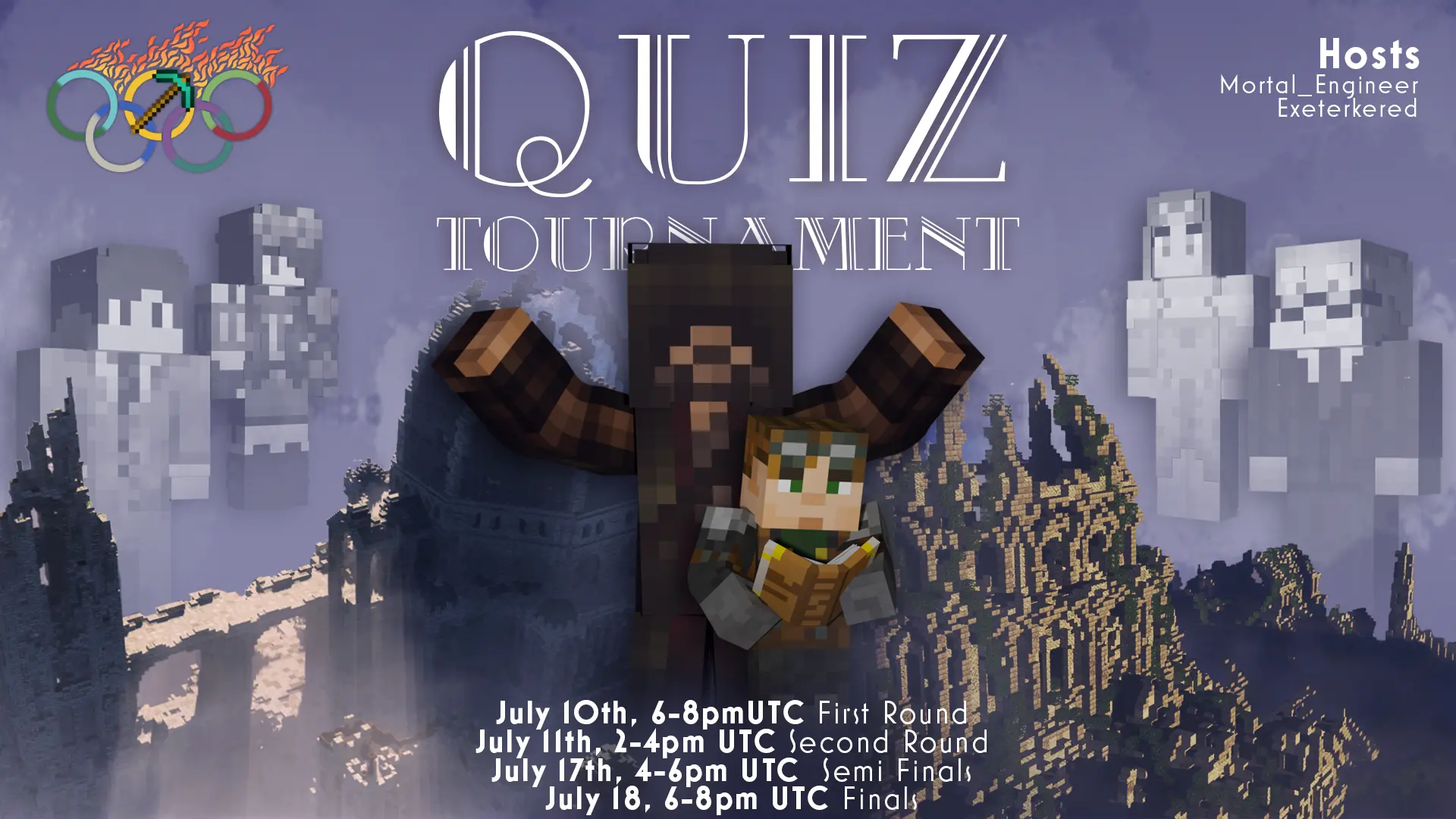 Based on the hit TV quiz series University Challenge, this much loved event returns this year for more fun weekends of team-brain racking and much self-kicking for not knowing the 37th word of the 678th page of the first edition of the Silmarillion. In teams of 4, you will be fighting it out for the top spot, as only one team will be able to rule them all! The questions will be half LOTR questions, and half General Knowledge questions, meaning any team can rule the day. We are just as excited making the quiz as you might be right now, and to remind you of what happened last year, here are some HIGHLIGHTS!


- Team Staff and Some Random Commoner won last year in an extremely close and nail biting final against team Confused Sweet Coffee Beans
- On several occasions birdo tried to bribe us for the answers
- Arch decided that his team could only be made in Britain
- Jarno switched teams like 5 times
- And Luk and Super spent their entire match complaining


This year we are bringing some NEW FEATURES to the tables. However these are not all confirmed, so don't think we're Cyberpunk 2078 here. These include:


- Picture Rounds
- Recorded matches
- More obscure questions (Just kidding! But not really!)


Now, for those who are unaware of how this all works, here are some RULES:
@Exeterkered will be the Quiz Master, hosting the game and reading the questions! Two teams will compete in each match via live voice chat. Each match lasts about one hour, and consists of two parts: a Tolkien Lore Round and a General Knowledge Round, each with 10 Starter Questions. We'll be using an online buzzer system: it's easy to use and worked very well last year. When a Starter Question is read, all players will have 7 seconds to press the buzzer, and the first person to buzz in may answer the question. If that answer is incorrect, the other team's players get a chance to buzz in and answer. When a correct answer is given, the winning team gets 10 points and moves on to a Team Bonus Round, which consists of three Bonus Questions for 10 points each. In the Bonus Round, the team may discuss each question for 10 seconds before the Team Captain gives a final answer.


If you would like to compete please get together in a team of FOUR, no more no less, then reply to this thread using the FORMAT BELOW to sign up before the first match starts!

-

TEAM NAME:

MEMBERS OF TEAM:

TEAM CAPTAIN:

-

So that's pretty much it, the only thing left now is explaining the logistics:

The first round of matches will start on Saturday the 10th of July at 6pm UTC (7pm BST, 8pm CEST, 2pm EST). The next round will occur the following day (Sunday the 11th) at 2pm UTC. We will then continue the weekend after that (Saturday the 17th of July and Sunday the 18th) at 4pm UTC and 6pm UTC, before a winner hopefully being crowned on that final Sunday night! If we get a lot of teams participating, we could always add another weekend on, meaning you'd be quizzing on the weekend of the 17th and 18th of July as well. We'll keep you suitably informed as to what's happening!


Please sign up as soon as you can. Entries submitted after the first match starts on Saturday the 3rd of July will not count and will not be allowed to participate! Get your teams together as quick as you can!

PLEASE NOTE that this Quiz Challenge is VOICE CHAT ONLY! Players who are not able to speak in voice chat will not be able to participate!
This is the tournament that's like no other! Mortal and Exeter will hope to see you there on 3rd July. May the best team win!
Last edited: