MCME Resource Pack Guide​
Server Resource Packs
For best visual experience at MCME servers you need our community made resource packs. The best way to get them is to enable server resource packs: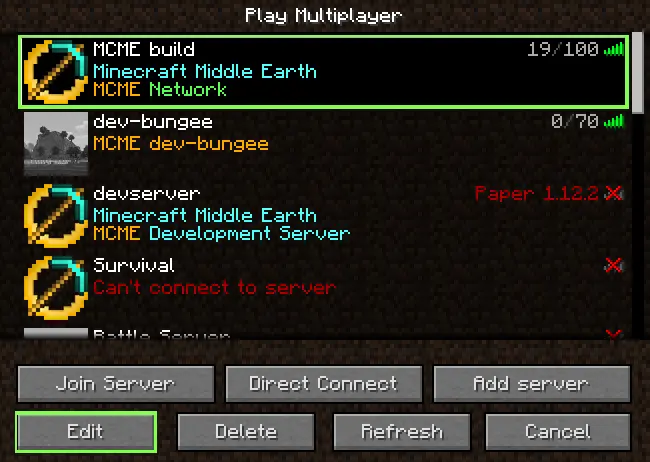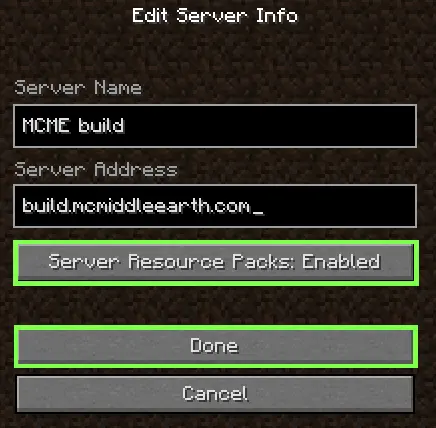 Click at the MCME server in the multiplayer lis
Click "Edit" at the bottom.
Set "Server Resource Packs" to "Enabled"
Click "Done".
Join the server.
When you join the server with Server Resource Packs enabled the server will send you automatically the correct resource pack for your location. We use several resource packs for: Eriador, Gondor, Rohan, Lothlorien and Moria.
Manual Resource Pack Switching
If you prefer to switch your resource pack manually you should still enable Server Resource Packs as those will be updated regularly. You can disable automatic resource pack switching and use commands instead:
/rp auto off
Disables automatic resource pack switching
/rp auto on
Enables automatic resource pack switching
/rp <rp-letter>
Manually switches to the specified resource pack. You need to put in the first letter of a resource pack name only. For example /rp g switches to Gondor RP and /rp d switches to Dwarven RP (Moria).
Downloading Resource Packs Manually
If you really, really want to download our resource packs you can do at our GitHub. Major updates are available as releases there.
Gondor:
MCME/RP-Gondor
Eriador:
MCME/RP-Eriador
Rohan:
MCME/RP-Rohan
Lothlorien:
MCME/RP-Lothlorien
Dwarven:
MCME/RP-Moria